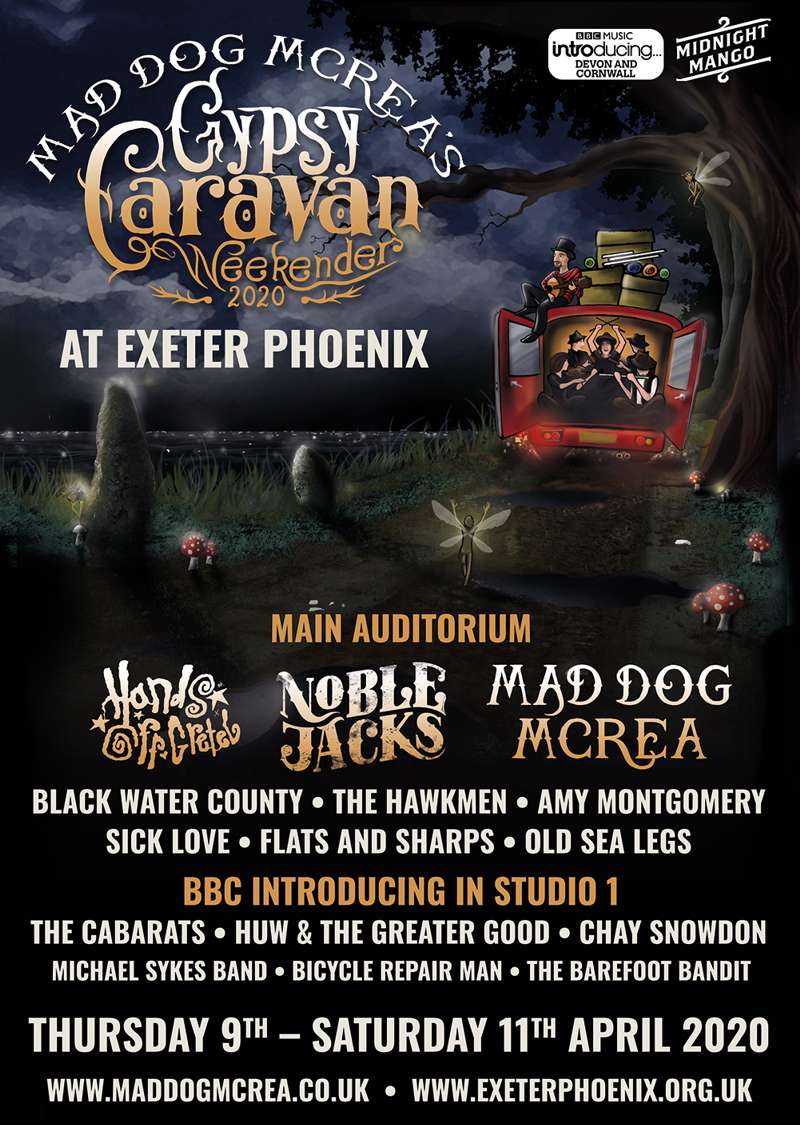 Midnight Mango Ltd presents:
Mad Dog Mcrea's Gypsy Caravan Weekender
The Hawkmen + Noble Jacks + Flats and Sharps
Buy Tickets
Mad Dog Mcrea are pleased to announce details for their inaugural Gypsy Caravan Weekender which is taking place over the 2020 Easter Bank Holiday weekend, Thursday 9th to Saturday 11th April 2020, at Exeter Phoenix.
MAIN AUDITORIUM
Thursday sees sassy alt rock/grunge pop band Hands Off Gretel headline with folk/punk festival favourites Black Water County and upcoming Irish rock group Sick Love supporting.
Friday sees a return to Exeter Phoenix for high-energy, fiddle leading, footstompin' Noble Jacks with rockabilly five piece The Hawkmen and Cornish four-piece bluegrass outfit Flats and Sharps supporting.
Saturday will be headlined by none other than Mad Dog Mcrea themselves with support from upcoming Irish singer songwriter Amy Montgomery with her raw and beautiful voice and Old Sea Legs which is the new project from Ian Bermingham; songwriter, performer and former frontman of The Eskies.
STUDIO 1 curated by BBC Introducing Devon & Cornwall
Thursday will see traditional Balkan and Middle Eastern sounds with lively reggae and ska from The Cabarats with support from earthy, bluesy, ambient, singer songwriter Michael Sykes Band.
Friday welcomes back alternative/indie/folk group Huw & the Greater Good and Bicycle Repair Man with their quirky folk style.
Saturday Plymouth based indie Rock 'n' Roll four-piece Chay Snowdon headline with The Barefoot Bandit supporting with their electrifying blend of modern roots reggae, bass-heavy riddims, deep dark dub and soaring trombone lines.
Weekend & Day tickets are on sale now.
Line Up
The Hawkmen draw from an array of influences such as rhythm'n'blues, soul, and rock'n'roll which they bring together in a classic, rootsy, hybrid blend. The band emerged as a full, live act in 2017 following the early successes of soul 45 and Craig Charles favourite, Don't Judge A Book By Its Cover (Record Kicks, Italy), a northern soul remix of Emma Beatson's debut single Do It (selected by Craig Charles for the second volume of his Freestyle Records compilation series) and The Hawkmen's blazing Keep On Working EP (Mocambo, Germany) which yielded another 45 and was widely played on BBC Radio 2 and Radio 6.
In 2017 Love Is Blind was released and features on the Craig Charles Funk and Soul Club Vol.5 compilation and received more BBC 6 Music airplay. 2018 got of to a flying start with the release of the Chemistry Of Love single, yet more plays on BBC 6 Music, leading to a mini UK tour and concerts in Germany and France. 2019 has seen the release of Soulful Dress (a huge dance floor hit), The Hawkmen's self titled debut album, and the live video for 'Baby Tonight', which has gone viral on YouTube with over 200,000 views and rising. The bands' live concerts have gone strength to strength with a mini uk tour, headlining the Frogfest Music Festival in High Wycombe and an appearance at the Boomtown Festival 2019.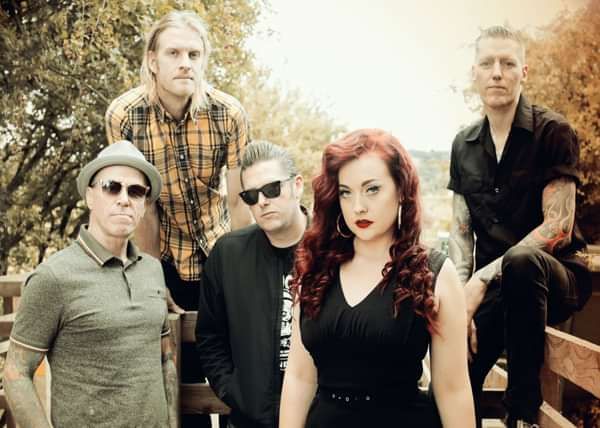 With the fiddle leading the charge, Noble Jacks are out to take no prisoners as they come on with their high-energy footstompin' rhythms which have taken crowds by storm across the UK.
Noble Jacks have been touring relentlessly, stompin' their way round the UK music scene with sold out headline shows promoting their debut album 'What the Hammer' as well as shows at major festivals including Glastonbury, Isle of Wight and Bestival to name a few.
'Their music is just the kind of sonic elixir we need in these troubled times' (Acoustic Magazine).
'Wit with wisdom, you should investigate Noble Jacks (FRoots Magazine).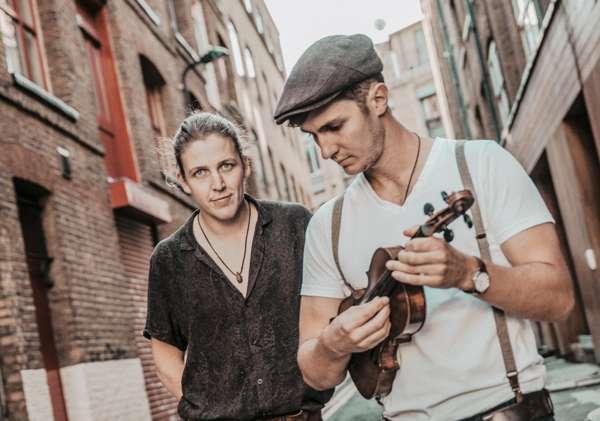 Far from the archetypal bluegrass band, the five-piece's new album, which consists of 11 originals and 3 covers, is an accomplished collection of genre-busting tracks.strong text
"…effortlessly entertaining …sublime five part harmonies …the pace of their performance is breathtaking – I recommend seeing Flats and Sharps at the earliest opportunity. If you can prove your disappointment, I'll personally send you a cash refund." - Mark Ellen – R2 Magazineemphasized text
99 Years live at Purbeck video My Life video
Hailing from Cornwall, in the South West of England, Flats and Sharps blur the lines between Bluegrass, Folk, Country & Pop, and have gained recognition for performing their own highly original songs as well as their renditions of Bluegrass classics. These five incredible young musicians honed their skills in 350 live performances over nearly five years charming and wowing audiences along the way.
The five track 'Always There' EP, released in June 2015, drew critical acclaim with R2 (Rock 'n' Reel) Magazine saying that they were "destined for great things" and 'Boat' and 'It's OK My Love' both picking up specialist and daytime UK radio play with the videos for these songs gaining traction on YouTube. The lads recorded a new album in summer 2015 which will be released in early 2016. Entitled 'King of My Mind' it breaks new ground instrumentally with added drums and even a Hammond B3 organ and guest performances from BJ Cole on Pedal Steel and a duet featuring emerging singer-songwriter emaé. 3 cover songs are sandwiched between 12 original songs written by Kirk Bowman (Banjo) and Mikey Ponsford (Mandolin). Added to these two Josh Warner (Guitar), Liam Fitzharris (Double Bass) and 2015 addition Danny Hart on Fiddle. 'King of My Mind' was recorded in a week at Deep Litter studios, South Devon and was produced by David McEwan who has won awards for his production work on Plan B's "The Defamation of Strickland Banks" and has a long relationship working with Nitin Sawhney.
Flats and Sharps have come a long way from their humble beginning busking in Penzance as 17 year-olds to performing on the Town Square stage at the Country 2 Country Festival at the O2 in London in March 2015 and at Proms in Hyde Park, London in September 2015, which was recorded for later broadcast on the Bob Harris Country show on BBC Radio 2. Along the way that have played for (and with) the Governor of Kentucky who jumped on stage to play with them, won fans at scores of festivals including Isle of Wight, Maverick and many Bluegrass and Folk Festivals and performed for events for Ralph Lauren and Jack Wills shops in London They were the headline act at the Ireland's Westport Folk and Bluegrass Festival in June 2015. Flats and Sharps are ones to watch out for in 2016 and these five talented young men are clearly going to pick up many fans throughout the year.