Supporting Los Pacaminos
Los Pacaminos + Mad Dog Mcrea
Buy Tickets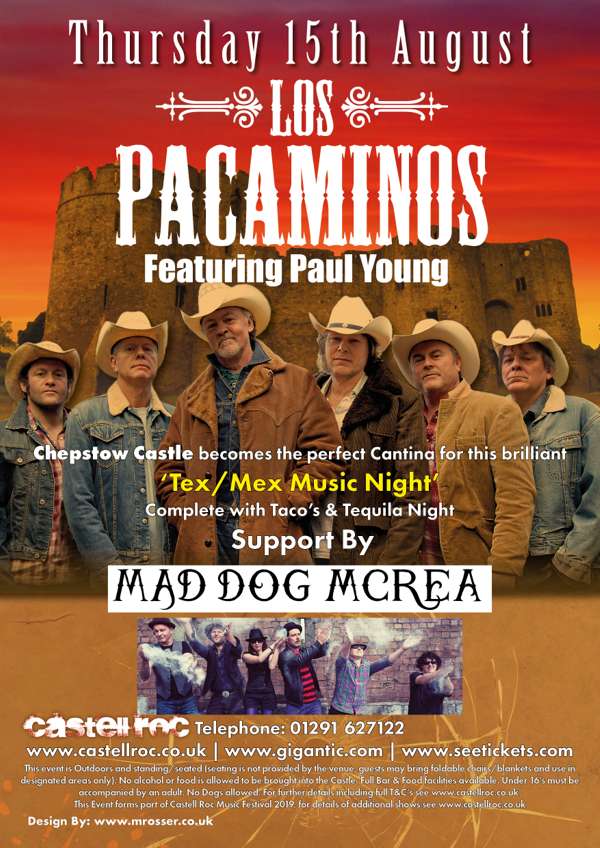 Line Up
Los Pacaminos formed in mid-1992, when the UK based pop star Paul Young found himself with some down-time and phoned a few musician friends with the intent of starting a Tex-Mex band.
Originally a six-piece, guitarist Jamie Moses, accordion/keyboard player Matt Irving, songwriter Drew Barfield, bassist Steve Greetham and drummer Mark Pinder began rehearsals in that summer, and in November played their first gig at the White Horse pub in Richmond, Matt's local watering-hole.
Fully expecting that the band would fall apart when something more important came along, instead the band played better and the friendship got tighter with each show.
The hats and the band name were there mainly to make it as clear as possible that it wasn't a Paul Young show: yet as they started writing their own songs it became more & more obvious that this wasn't going to be a short-term project.
In the year 1997 Jamie called Paul regarding a pedal steel player he'd worked with called Melvin Duffy, and suggested he play on a few songs at the next show. As Paul remembers, "as soon as he took the first solo, we all melted! He had to be in the band, the decision wasn't his to make".
Now a 7-piece, in 2002 the Pacs reacted to supporters of the band and recorded their first album. A collection of 12 original songs that ran through their influences of the Texas Tornados, Doug Sahm, Flaco Jimenez, Roy Orbison, The Band, Chuck Berry, Ry Cooder and Calexico, the album pulled in an impressive array of positive reviews.
In 2015, the band lost their dear friend and founder member Matt Irving after a long battle with cancer. In 2016, Steve "Woody" Oakman stepped in as the new accordionist.
Los Pacaminos are now past their 25th year and show no signs of stopping. With an unmatched live reputation, two acclaimed studio albums and two live albums under their belts they continue to explore the music of the Southwest.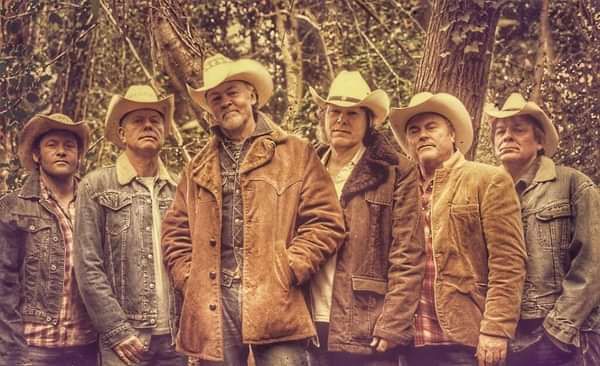 Mad Dog Mcrea blend a unique mixture of folk rock, pop, gypsy jazz, bluegrass and 'shake your ass' music. From self-penned songs of adventure, drinking, love and life, to traditional songs of gypsies, fairies, legless pirates and black flies – Mad Dog never fail to capture their audience with their infectious songs.
It was at Glastonbury in 2013 (notably the Avalon Stage), the release of their 'Happy Bus' video, take-up from national radio from esteemed folk such as Mike Harding, and others………. Matched with the unshakable dedication of their massive and loyal to the hilt, fan base – that Mad Dog Mcrea began to become more than just a very popular, West Country festival act; – whilst obviously killing it live – Mad Dog Mcrea, determined that their fans and media alike – should see them as serious and acclaimed recording artists too.
Mad Dog's new album ALMOST HOME, produced by Sean Lakeman, is an album fuelled with the all the essential Mad Dog energy and antics that the band have become known for – Dave Podmore writes engagingly about Mad Dog stuff – as one might expect, all night drives, police car chases – Folk musicians, in particular have been playing tribute to the hero's of WW1 of late – MDM are no exception, offering up their bone chilling song – "You Can't Find Me". "The Sound" written by Seth Lakeman includes beautiful guest vocals from Suzie Mac.
In constant demand and having played just about every festival and two-bit, jibe-arsed dive in Christendom, Mad Dog Mcrea. are, in every sense of the word, a live, band – ALMOST HOME – encapsulates that – and so much more.
The famous purple happy bus is fired up and ready for action, and there's room for you – jump aboard!
View Profile