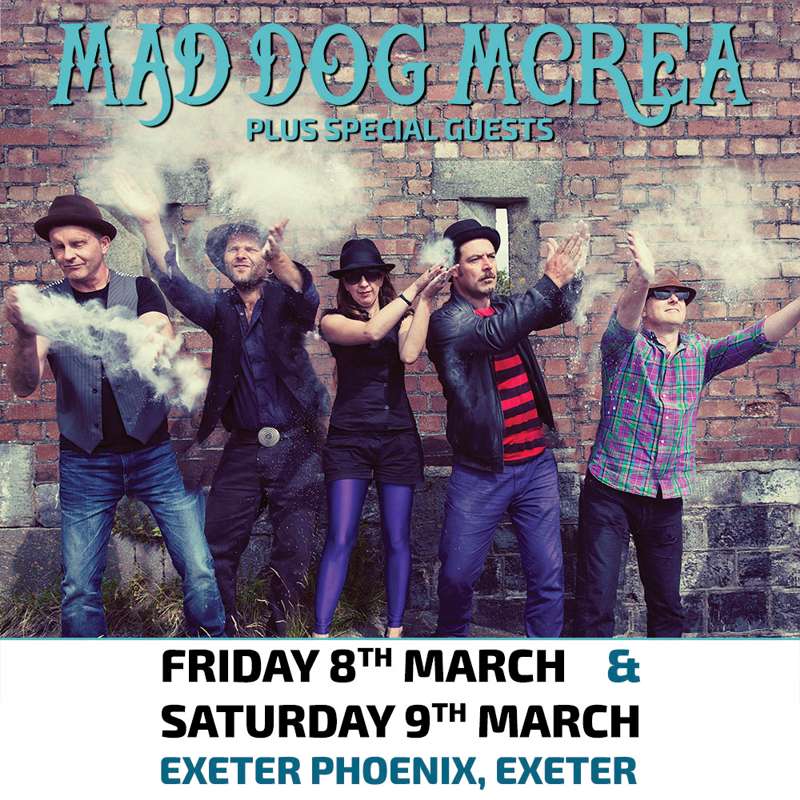 Midnight Mango Ltd presents:
Mad Dog Mcrea + Special Guests
Mad Dog Mcrea + The Eskies + The Billy Shinbone Show
£16.50 advance
Entry Requirements: Under 16s to be accompanied by an adult
Buy Tickets
Line Up
THE ESKIES…
The Eskies are purveyors of music that meanders from sea soaked waltz to Italian tarantella, from Brassy funeral march-esque lament to weep along Klezmar knees up, from chain gang holler to rag time finger snap.
Skipping through the dark side of anything that makes you want to dance, steeped in melodrama and usually with not a small amount of tongue in cheek.
The band have brought this unique brand of folk noir/gypsy jazz/sea shanty along with their all screaming, all sweating, swaggering stage spectacle to ballrooms and booze-houses half the length and breadth of Europe; sullying soirees and lowering inhibitions of get togethers and social occasions wherever they have ventured.
Known for their raucous live shows, acid wit and hectic touring schedule, appearances of note include main stage appearances at Glastonbury and Cambridge Folk Festival, Eurosonic Noordeslag, Celtic Connections, tv appearances on RTE's Saturday Night Show as well as several radio appearances on both RTE and BBC as well as a whole host of national and regional radio in Ireland, The UK and throughout Europe.
​Their self-released debut album 'After The Sherry Went Round' was unleashed to public and critical acclaim in 2015 and 2017 sees the eagerly anticipated follow up 'And Don't Spare The Horses' due for release on the 1st of December, available to pre order now from www.theeskies.com as well as all usual digital distributors.
---
"A Melting Pot of sounds that screams 'get up and dance!' - R2 Magazine
"Setting their stall out from the first bar the band rip it up track by track." - Americana UK
"I love it!" - Frank Hennessy BBC Radio Wales
"Imagine music that grabs you by the arm and threatens to drag you onto the dance floor – visualise all that and you'll be close, only close though." – FolkWords
"Turbo charged, maniacal, mayhem" - Get Ready To Rock!
"Razor sharp arrangements and commendable restraint, they put most of their rampaging peers to shame" - Acoustic Magazine
The Eskies are quite frankly one of the most stunning and versatile bands that we have ever come across. - Atree
"rip-roaring party tunes for cowboys, sailors, chain gangers and rag timers" - Whisperin and Hollerin
"Like a wagon storming the citadel, The Eskies' brand of gothic-tinged gypsy-folk swaggers out of the speakers with intent." – Hot Press Magazine
"From the sinister sway of 'Eloise' through to the jaunty 'Jesus Don't Save Me' and the driving 'Jailhouse Sun', The Eskies have delivered a fascinating blend of fun-fuelled folk." – The Independent
"The album is a raucous fanfare of folk, swamp blues and unquenchable merriment, paired with brain-burrowing melodies and witty lyrics, delivered at breakneck speed." – Goldenplec
"Indeed, the album exudes a vim and visor that bursts from out of the speakers…makes for an incredibly entertaining experience." – The Last Mixed Tape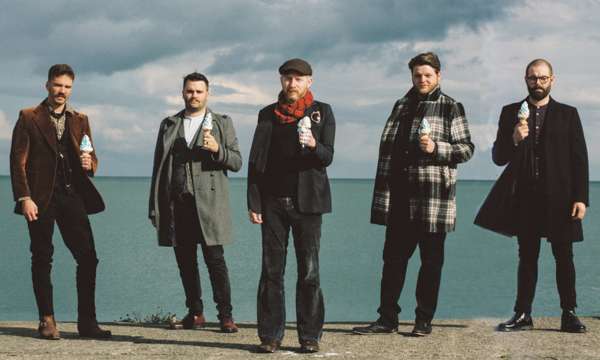 The Billy Shinbone Show is the deviant fuzz-folk & disco-blues manglings of Somerset multi-instrumentalist Jesse Budd (aka Billy Shinbone), -funneling his twin passions of old country & 60s psychedelia through the rusty plumbing of a DIY musical approach & his love of a twisty lyric.
What started as a side project from his band Flipron has grown to include an album, singles, tours across Germany, festivals & plenty of national & international radio play. His songs are characterised by often spookily surreal lyrics over a tangly open-tuned picking style -playing "guitar like a banjo & banjo like a guitar".
When he's not playing solo gigs he works as guitarist with ex-Specials singer Neville Staple & co-writes & records with legendary Damned drummer Rat Scabies on his most recent & forthcoming solo albums, as well as leading psychedelic-roots-pop band Flipron.
"Uniquely imaginative and infectious..... Highly recommended." - 5/5 -The Morning Star
"A smasher of a debut" - www.lonesomehighway.com
"The quality is there along with the heart and that is the combination that makes for a winning album" - www.folkworld.eu
"A cracking little album" - www.terrascope.co.uk